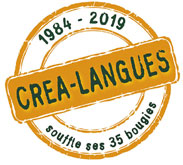 February : special Valentine's offer for a course in spring
To celebrate its 35th anniversary, CREA-Langues proposes a reduction for couples enrolling for a course in April, May or June 2019 :
70 € for a one week French course (35 € per person) or 140 € for a two week course (70 € per person). This is valid for any inscription made during the month of February.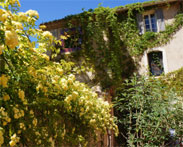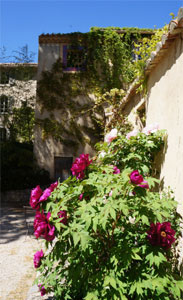 In June, nature and culture in the spotlight (°)
- Cathy, our local guide, proposes an excursion around the theme of perfume : its history, its illustrious characters having marked its development in the region, the link with the Monastère de Ségriès, where our school is located. She has numerous historical anecdotes and secrets of nature that she will share with you during a walk between Ségriès and Puimoisson.
- with a nature guide or one of the teachers, you'll do a hike through the garrigue, either around the Monastère or in the Verdon canyon, which is most beautiful at this moment of the year : aromatic plants, roses, sage and from mid-June onwards lavender in bloom, just to name some of them.
- a linguistic workshop on the theme of scents and flavours with work on all language skills : written and oral comprehension, discussions, writing.

An exceptional cultural event
On Friday evening the 7th and Saturday the 8th of June during the day, le Monastère de Ségrès will host a festival around 'L'homme semence'. A true celebration about the story – translated in many languages - that tells the life in a nearby Provençal village, a page of French history. The Festival will gather historians and artists around this text, written 100 years ago. The programme comprises of conferences, debates and plays; "Le Semeur" , film based on "L'homme semence" realized in 2017 will be screened. The participants at the course are invited to participate in this unique event.

And, as usual :
- French courses in the morning, in mini-groups of level
- varied courses around current topics
- an in-depth teaching of phonetics
- option private tuition or special programme for Expats.

(°) A few places are still available for the fortnight 3-14 June. It is also possible to follow a one week course in June on following dates : 3-7, 10-14 or 17- 21 June.
For all information, please contact Joan : Contact us.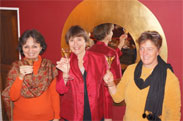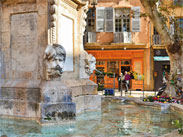 Some excellent reasons to come to CREA-Langues in April
To start our new season and celebrate our 35 years of existence
. During week 8-12 April : there will be a festive walking dinner, with several invitees : the maire of the village, regular guides and speakers, local artists and friends.
. During week 15-19 April : a musical event.

The possibility to opt for a special programme :
"French and yoga" (8-12 April) or "French and cooking classes" (15-19 April)

The winner of the weekend in Aix-en-Provence on 13-14thof April
To launch the festivities of CREA-Langues' 35th anniversary, we did a draw amongst the participants who enrolled for a course in April, before the 1stof February.
The winner is Mrs Nanette Stringer from Palo Alto (US). We offer her an exclusive weekend in Aix-en-Provence, "la ville aux mille fontaines".
The weekend includes a night with breakfast at a charming hotel in the historic city-centre, a ticket for the opening concert of the "Festival de Pâques" with violinist Renaud Capuçon and the orchestra of the Opera of Lyon, three meals at some restaurants selected by us, a visit of one of the museums of the city and an additional surprise.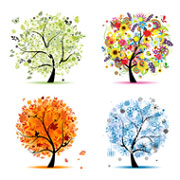 Les quatre saisons de Ségriès
Once every trimester, in our section "LES QUATRE SAISONS DE SÉGRIÈS", we propose "nos coups de coeur », a selection of favorite books or films by one of our teachers, « Le coin des mots », some exercises to enrichen your vocabulary and « Le coin des lettres », a special section for the students who already attended a course at CREA-Langues.

As for now, the spring 2019 edition is online.
Next "rendez-vous" for the summer on the 21th of June.