Access to the Monastère de Ségriès
By car
Some approximate distances to the "Monastère de Ségriès":
| | | | | | | | |
| --- | --- | --- | --- | --- | --- | --- | --- |
| Aix-en-Provence : | 95 km | Lyon : | 350 km | Amsterdam : | 1350 km | Gênes : | 350 km |
| Marseille : | 125 km | Grenoble : | 215 km | Genève : | 360 km | Milan : | 470 km |
| Paris : | 800 km | Nice : | 160 km | Bruxelles : | 1150 km | Barcelone : | 580 km |

GPS coordinates :
Degree of longitude : 06° 10' 30'' E – Degree of latitude : 43° 51' 22'' N - Altitude : 730 m
Notre-Dame de Ségriès Route de Riez, F-04360 Moustiers-Ste-Marie
Itinerary coming from Lyon and Avignon :
Motorway A7 ; coming from Avignon : A8 to Aix-en-Provence ; take A51 direction Gap-Sisteron and leave at exit Manosque (°). Right after this exit, go right at the first roundabout, direction Gréoux-les-Bains/Vinon-sur-Verdon. After the bridge over the river Durance, at the next roundabout, continue on the D6 for about 12 km, direction Valensole. About 2 km before you reach Valensole go left in the direction of Digne-les-Bains. After 15 km, at the crossing, turn right and take the D953 direction Puimoisson.
When entering this village, continue on the D56 towards Moustiers-Ste-Marie. After 5 km, at the crossing, take the D952, direction Moustiers-Ste-Marie and continue for about 2 km. To your left, 100 m after the "ateliers des Cigales-Ségriès" you will find the entrance road (private asphalted road) with the sign "Monastère de Ségriès" – "CREA-LANGUES".
Itinerary coming from Geneva :
N201 to Annecy, A41 direction Chambéry, Grenoble and then N75 till Sisteron. From there, take the A51, exit Manosque. From there, see above from (°) onwards.
Itinerary coming from Nice :
Motorway A8 (direction Marseille, Aix-en-Provence), take the exit "Le Muy"" (exit 36) and continue direction Draguignan. Before Draguignan, take to the left and pass by Flayosc, Salernes, Aups to Moustiers-Ste-Marie. Coming down to the village, take the D 952 in the direction of Riez. Le monastère is at about 5 km from the village of Moustiers. At the sign "Monastère de Ségriès" – "CREA-LANGUES", take the private road to your right.
A variation :itinerary bis ("Bison futé") : a nice solution if you want to avoid the motorways which are often overloaded during summer. You drive on national- and departmental roads. You will find information at the French tourist offices along your way and on the website : www.bison-fute.gouv.fr
Link to Google Map :
Google Map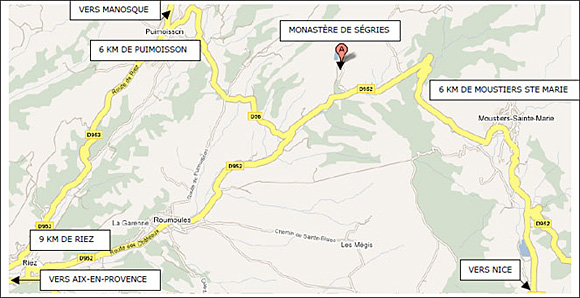 Carpooling
If you want to share your car with other participants living close to you, please contact us.
By train
The largest and closest railway station is : AIX-en-PROVENCE TGV, at 95 km from our school and 18 km from the centre of Aix-en-Provence. There are regular bus connections between Aix-TGV and the city centre.
By plane
From the largest cities in Europe there are regular flights to Marseille-Provence airport. There is also an MP2- terminal, for low-cost flights.
Transport between the airport/railway staton and our school
CREA-LANGUES organizes a transfer by minibus from Marseille-Marignane airport and from Aix-TGV railway station, on Sunday before the start of the course. Please register for this transfer in advance. Price : 42,-€/transfer.
- from the airport : we meet you at 5.45 pm at the meeting point (Point Rencontre) in arrival HALL 1 (arrival hall of international flights). Please book a flight that arrives before 5 pm.
- from the station : we meet you at 6.15 pm at the meeting point (Point Rencontre) in the arrival Hall B (arrival hall).
Please book a train arriving before 6 pm.
Transfer after your course : You will arrive at Marseille-Marianne airport and at Aix-TGV on Saturday morning at 10 am. Please book a flight that takes off after 11.30 am.
Price : 43,-€/transfer, please register for this transfer in advance.
Coming from Nice airport :
the distance from Nice to our school is much longer than from Marseille airport and there is no direct public transport. For this reason, we offer transfers from Marseille airport and Aix-TGV only. However, if you come via Nice, you could either rent a car at Nice airport (2h to 2h30 drive), book a seat on a TGV to Aix-en-Provence (3hrs train journey – followed by our 1h15 regular transfer) or take the «train des Pignes » to Mézel (3 hrs train journey + 30' individual transfer).
You could contact us for advice or take a look at www.trainprovence.com or www.voyages-sncf.com
Bus (société Sumian – LER Ligne 27)
Daily, except on Sundays and official holidays, there is a bus Marseille – Aix-en-Provence – Riez. CREA-LANGUES can pick you up free of charge at Riez, which is at 9km from our school.
See www.autocars-sumian.fr LER ligne 27 (LER : Lignes Express Régionales)