Total immersion to learn French
Our language training programme will give you the motivation and confidence, based on a concept involving total immersion in French culture and language.
A residential course, a continuous presence of teachers, French practice from morning till evening.
A residential course : you are staying at the school
Our school found its home in a 19th century monastery that has been renovated with style and offers a warm, welcoming atmosphere, with attention to human values and to the environment.
Your hosts offer an excellent quality of accommodation and delicious Provencal cuisine for gourmets.
The monastery is tucked away in a eight hectares : gardens, a biological vegetable garden, a large swimming pool, a patio and terraces in the shade, salons, a library, six class rooms. Free Wifi access. Out of the class hours, you can study and work on your own in the library.
The tranquility and beauty contribute to the privilege of staying in this exceptional place.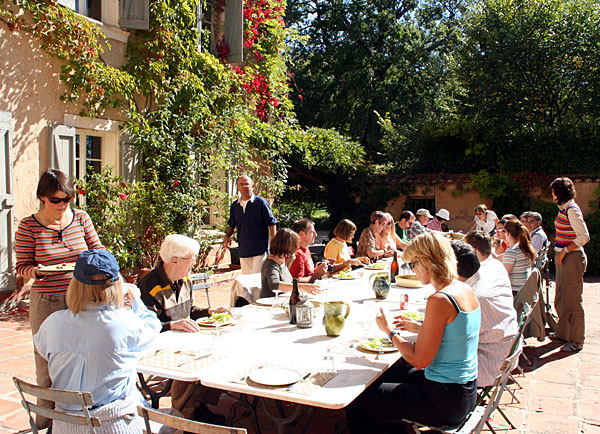 Teaching staff on hand all the time : the whole day, at mealtimes and in the evening
The quality of our teaching staff contributes directly to the success and reputation of our centre. They are experienced and qualified, and combine a professional approach with a genuine concern to ensure you are making progress. They know how to put you at ease and how to point out any errors you make in a positive and helpful way.
They live-in at the centre, share mealtimes with you, accompany you on the excursions and take part in the evening activities.
You'll find this will stimulate and motivate you to speak French throughout your stay.
Reinforcement of the learning process through an informal French practice, out of the classes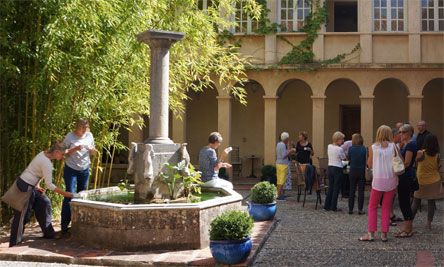 The tutorial sessions of the course make up only one part of our approach to teach French. Just as important are the other aspects of your stay here : the opportunity to meet with local people, lively discussions and debates, friendly meals in the company of the teachers - all these help to root your learning of French in real life and to make you progress in the language.
After the evening meal, if you are so inclined, you'll be able to join in a wide range of activities. Our team will be there with you, too, enjoying these moments of informality and encouraging you to carry on speaking French.
During a stay in our school, you will be speaking French throughout the day !.