Who are we ?
CREA-Langues has been the holder of the FLE Quality label since 2008. The certification is awarded for a period of 4 years, following an on-site audit. We have obtained 3 stars, the highest rating in all audited domains.
Annemarie DESMET, co-founder, director and teacher
Having completed her studies in various fields, including languages, film and theatre, at the university of Leuven (Belgium) and Sorbonne (Paris), several years of numerous work experiences in Belgium, Spain and France led her to launch language immersion courses in Provence in 1984. This was the start of CREA-Langues. Since then, she is directing the school, with dedicated passion, which goes in tandem with occasional teaching as well. 
Furthermore, she is also assisting her husband in the daily running of "le Monastère", the domain they acquired in 1996 and where CREA-Langues is based.
Besides French, she is speaking English, Dutch, German and Spanish.
The quality of our teaching staff contributes directly to the success and reputation of our center. They are experienced and qualified and combine a professional approach with a genuine concern to ensure you are making progress. They have all learned at least one foreign language and are therefore aware of any difficulties you may encounter. They have stayed abroad or traveled and are open to other cultures. They know how to put you at ease and how to point out any errors you make in a positive and helpful way.
They live-in at the center, share mealtimes with you, accompany you on the excursions and take part in the evening activities.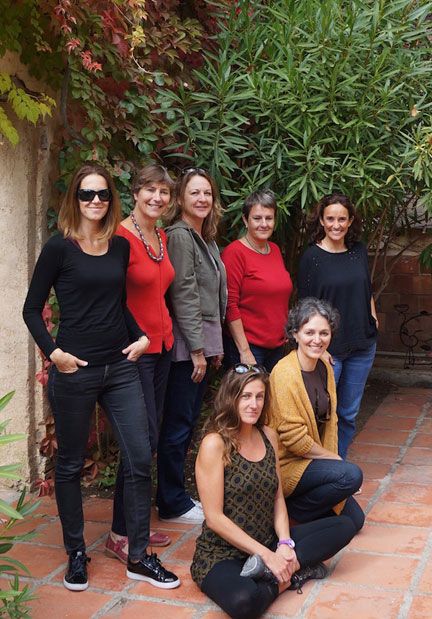 CREA-Langues : a long experience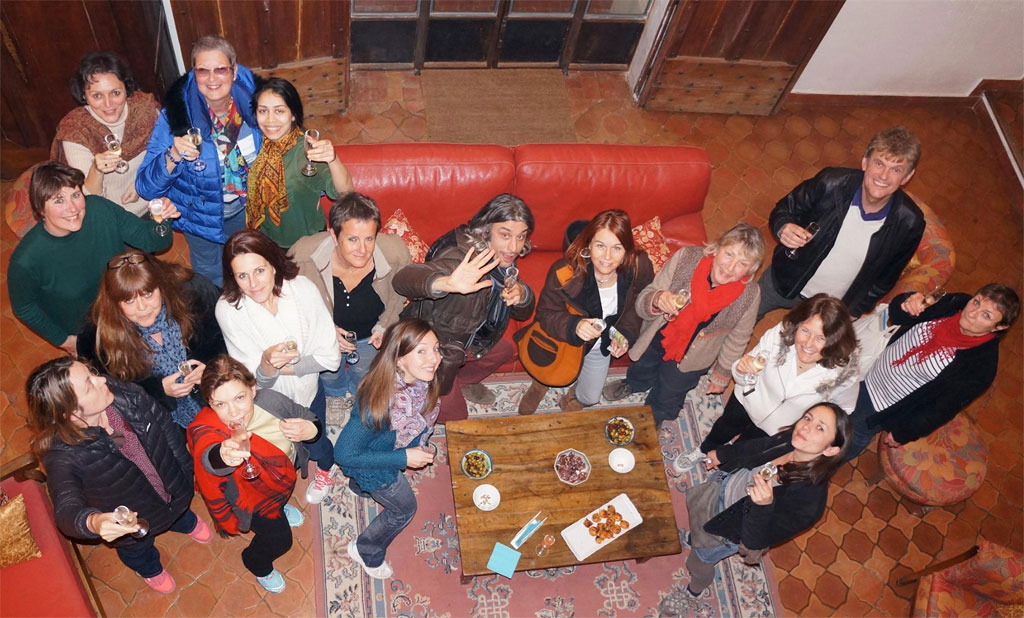 In 1984, our passion for the French language and Provence inspired us to start CREA-LANGUES. For more than 35 years now, people from all four corners of the world have stayed with us to learn French in an ambiance that combines professionalism and pleasure of learning.
The quality of our teaching staff, 18 in total, contributes directly to the success and reputation of our centre. Some have been with us from the beginning, others continue to join us, bringing with them fresh ideas and perspectives. They are qualified and experienced, and combine a professional approach with a genuine passion to ensure your progress.
Every year, many participants come back to continue their learning, but also to enjoy a language course where human values and relations are given considerable importance.
The ability to speak a foreign language is a wonderful attribute to have. It's the key which opens many doors. It gives confidence. It enables you to understand other people, helping to break down barriers.
So we invite you to come and spend some memorable time with us in the midst of a beautiful region of France. The unique setting of the monastery, its family atmosphere and exquisite cuisine help make learning French a real pleasure.
HISTORY OF CREA-LANGUES
In order to know a little more about our history, you are invited to discover its creation, the people who contributed to its development, the places where the courses have been held.
1984 – The beginning of an adventure
Annemarie
, passionate about languages, finishes her studies at the Sorbonne, in Paris. She first teaches French and Spanish.
Jan
, trained as an economist, decides to settle in Provence. Both from Belgium and France lovers, they decide to organize two weeks of immersion in French language for a small group of young Flemish students, in St-Julien-le-Montagnier, in the Haut-Var. The teenagers live with local inhabitants. They move around in a 4L, the famous ancient Renault car. "Les Rouvières" village school acts as a base. A giant "aioli" prepared by the small group to thank the villagers remains memorable! And everything is done... in French.
KREATA
, which will later become
CREA-Langues​
​, was born.
1985 – The birth of CREA-Langues adultes
Michel
joins the small team as a teacher and Jan's mother Cecile takes over the responsibility for enrolment. Three groups of young people follow one another in Aurabelle equestrian center in Gréoux-les-Bains and Vinon-sur-Verdon multi-activity hall. Testing a stay for adults in the "Grande Bastide" in Rians is a success. This is the beginning of a great adventure for both "youngster" and "adults" sections.
1986 - The team grows
Gert
,
Tine
and
Anna
come to reinforce the teaching staff. For several seasons, they will assist Annemarie and Michel for didactical and general preparation of the courses.
We find the beautiful "château de Bauduen" (VAR) by the lake of Ste-Croix for adults programmes. We will be staying there for many years. We also launch our first language courses in the French Alps combining French lessons and skiing.
1987 - The rise
Enrolment increases fivefold in just three years. Flemish press and radio talk about us. We welcome our first Swiss, Dutch and English participants. We launch our special itinerant programs combining French lessons and discovery of Provence: "hiking", "biking", "Provence festivals" etc.
The "château" of Bauduen, as well as other Provencal buildings of character host various courses along the seasons: "la Ferme de la Colle" in Gréoux-les-Bains, "le Séminaire" in Lurs and "le Vieux Castel" in Roumoules.
1988 - The "Pavillon" in Greoux-les-Bains, our first centre
A former hunting lodge undergoes major renovations to become the heart of CREA-Langues ​​and the youngster programmes, ideally located in the plains of the Verdon, a few kilometers from Gréoux-les-Bains and the lake of Esparron.
Our season extends as we now offer skiing holidays in the Southern Alps in February and courses in Provence in April and May.
We have increased from 20 participants in 1984 to 175. New special programs emerge: "Transhumance", "Gastronomy ", "Water sports" ... The teaching staff grows.
Nika
, based in Bruges, takes over as a secretary.
1989 - Language courses for all ages
As far as youngster courses are concerned, each group of twenty students counts, from now on, at least three Frenchspeaking teenagers. This is what we call "jeunes francophones".
Dhruv
, the former sailing champion, comes into play and becomes our "chef" in Aurabelle. He will delight the taste buds of many "francophiles" ... with a hint of Indian spices and bringing a touch of incomparable humour.
Concerning the adults stays, the trio Gert,
Françoise
and Annemarie are in charge of two courses at the "hôtellerie de la Ste-Baume" (between Aix-en-Provence and Cassis), another inspiring place. Over the years, we will experiment many centres.
We propose a special seniors course. But soon, groups with a mix of generations appear to be much better. And our courses are now open to all adults, regardless of their age.
1990 – Looking for a centre for adults
Our groups are now growing international. While, we were mostly welcoming Dutch and German students in the early years, our registration network now extends to nearby countries and beyond. Following a strong demand and thanks to a report made by Belgian television, the number of groups double: we conduct on-site and external courses at the same time. Many teachers join us, for which we organize off-season training.
We are also in search for a fixed location for our adult courses. We will criss-cross Southeast of France during several winters to find the rare gem.
1991 - Arrival of Helen, the soul of our information desk and registration
After spending several years in Taiwan and Texas,
Helen
becomes our secretary. The quadrilingual CREA-Langues voice is still in charge of our registrations today and always makes it with a great professionalism
Several agencies abroad include our school in their offer for a language course. We go over 400 registrations a year.
Eddy
and
Miréio
join the teaching staff. Miréio is still working with us in the season to date.
1992 - The permanent team grows
Annemarie and Jan now share responsibilities and lead respectively "adults" and "youngster" courses.
Ghislaine
enters the team. In addition to her role as a teacher, she becomes Annemarie's first assistant all year long and will remain so for 15 years. She is still a greatly involved member of our teaching staff today.
1993 - KREATA becomes CREA-Langues
We change the name: KREATA becomes CREA-Langues​.
Regarding the youngster courses, we launch an immersion program for students (18-23 years)called "Cocktail Provence" that includes numerous exchanges with Provencal students. The "Pavillon d'Aurabelle" seems now to become a sort of multicultural hub! Moreover, we notice an impressive rate of "loyalty": for all our programs, between 20 and 30 per cent of the participants come back and sometimes several years consecutively. A trend, that will increase over the years.
1994 - La Provence toujours
Ghislaine
and
Sybille
supervise the last adult programme "Skiing and French lessons" in Pra-Loup, in the Southern Alps. The tons of snow they had to shovel to get into the cottage will always remain in their memories ... Onwards from now, adult courses will take place only in Provence during spring and summer time.
1995 - Ingrid in the team
Ingrid
joins the team, first as a teacher, then a few years later, she will take over as a director for youngster courses. She will successfully juggle between young and adult education. Her commitment, her energy and professional skills will make her one of the pillars of our team.
Along with Miek, she will strengthen the partnership with regional secondary and high schools as well as the University of Aix-en-Provence. They both will also develop a playful teaching approach called "Parole, pratique, plaisir", to encourage the youngsters to speak French all the time.
1996 - The Monastery of Ségriès, our dream place...
So the perfect place we have so much dreamt about would really exist? Annemarie, Dhruv, Florence and Christian join forces to acquire an exceptional place: the Monastery of Ségriès in Moustiers-Ste-Marie, a former Cistercian monastery abandoned for over ten years. They begin renovating the property, helped by many friends. Magic works in just six months: water, electricity, heating are installed. Rooms for students and for the teaching staff, a large kitchen, dining hall, and an office for the team are operational ... This is the beginning of a new and wonderful adventure. The monastery will now host all the adult's courses.
1997 - First stay in Moustiers-Ste-Marie
In June 1997, the Monastery gate is wide open to welcome its first group. For many years, works will continue off-season. The two couples exchange their "nice clothes" with working over-alls to transform dilapidated rooms into beautiful bedrooms, classrooms and lounges. Work sharing seems natural: Florence, a specialist in tiling also creates beautiful wall friezes. Christian takes care of plumbing and carpentry, while Dhruv takes charges of electricity and masonry. Annemarie tirelessly restores ceilings and does painting jobs. With each new season, participants will discover new tastefully restored parts of the Monastery. Familiar with the business world,
Alain
launches "French professional courses", a program that he particularly cherishes.
1998 – There is always something new
For the adult section, we create every year new courses and activities to enable learners to discover the countless faces of Provence and France while learning the language of Molière.
Meanwhile, the "youngster" branch closely collaborates with Welsh teachers for English courses for juniors. Ingrid takes care of this original program: a London bus converted into a mobile school brings the teenagers and their teachers on the roads of England for 10 days of immersion. But the sunshine and the Provencal sky win: after a few seasons, we will end this diversification to re-focus on the core of our business: teaching French in Provence.
1999 - French immersion, still ...
We welcome over 400 youngsters and 200 adults. We enter a partnership with a Belgian company offering our language courses to its members and employees.
Seven people work year round in CREA-Langues, the team now consists of forty teachers during summer. They share their passion for teaching French. All with an international experience, having spent time out of France, they master at least one foreign language. They are able to "understand" what a student in a French immersion undergoes. During the courses, most teachers live on site, share meals and leisurely evenings...
Our teacher's profiles and commitments are still the same today.
2000 - Catherine arrives
Catherine
joins the adults teaching staff, this is the beginning of a rich and sustainable collaboration. She is a real dynamic force in the team, always looking for didactical improvements, while adhering to the spirit of the school that combines learning and creativity. She will profile more like a "trainer of trainers". Her role in the development and reputation of the school is undeniable.
2001 – A cuisine for gourmets
To combine French learning with the joys of eating is another important thing in the CREA-langues concept. We are in good hands in Ségriès : since their arrival at the monastery, Christian, Florence and Dhruv share culinary tasks. Dhruv prepares tasty lunches; Christian treats us to delicious dinners, and, as a bonus, most vegetables are freshly picked from the garden of the Monastery. And Florence, " the queen of desserts " caps it all with her exquisite creations.
2002 – A varied and dynamic teaching staff
This year,
Thierry
joins the team. Since then, every season, he brings his enthusiasm, good humour and constructive ideas.
Over the years, more than a hundred teachers for our youngster section and about fifty for the adults, share the adventure. Some will provide a one-time contribution before leaving to other professional backgrounds, others move beyond frontiers, as
Jean-Christophe
who went to live in the United States, but whose film- and writing workshops remain in our memories; still others will faithfully come back, season after season. We cannot list them all, but they have shaped CREA-Langues​, each in their own way. Complementary personalities that make up our team and contribute to the richness of the experiences we offer today.
2003 - The network of local guest speakers extends
We use local guest speakers in our immersion programs. They passionately make us discover the countless treasures of Provence : Maryse of Moustiers becomes our "official wine expert". She also offers olive oil tasting at her garden. Jacques initiates us into the secrets of the truffle, prized local produce. Christophe and Raphaëlle speak in a passionate way about their job, respectively a potter and a goatherd. Marie-Odile opens her etching workshop for artistic activities; Jeff, a mountain guide, reveals the secrets of the Canyon du Verdon; Honoré the shepherd, tells his life at 1000 m altitude, between Provence and the Alps. Elizabeth shares her knowledge of harmony and habitat; the talented speaker and writer René Frégni conducts passionate exchanges about literature and last but not the least, René Sette captivates us in his recitals in the cloister.
2004 - CREA-Langues twentieth anniversary and an unforgettable weekend team
In March, the whole team gathers for a memorable weekend in Cassis and Marseille to celebrate CREA-Langues' 20th anniversary​​. It is also in 2004 that we begin to integrate the famous CEFR European Framework of Reference for Languages ​​developed by the Council of Europe.
2005 - Swimmingpool ... and phonetics
The monastery is now equipped with a beautiful pool, an addition which is highly appreciated by our guests who take full advantage of it. One of CREA–Langues main strengths is teaching phonetics. This is often a discovery for the participants. Under the guidance of Catherine, working on pronunciation is integrated into lessons.
2006 – One or two weeks stays.
Facing with a strong demand for intensive short courses, we decide to change our offer, proposing alternately one or two weeks stays. We introduce small units during just before lunch, called "mini-workshops" that are much appreciated.
Delphine
returns to teach in Australia.
Sabine
joins us and delights with her passionate teaching and her many talents as a musician and painter.
2007– Special theme weekends
We were already proposing special theme weekends: the "Avignon festival", biking, hiking, canyoning, "Provencal cuisine". This year, we offer other cultural field trips, "in the footsteps of Paul Cézanne and Marcel Pagnol" to discover wonderful corners of Provence beyond the Verdon.
Martine
and
Diane
, both living in the region and teachers at CREA-Langues for years, regularly accompany these weekends and share their passion for our regional culture with the students.
2008 – Grant of our first quality label FLE (French as a foreign language)
Catherine is now in charge of didactics.
That same year, we officially commit to an approach of quality and have an audit to obtain the quality label FLE (French as a foreign language). Annemarie and Catherine work intensively in tandem on the preparation of the audit to be held in September. Sybille,
Myriam
, Sabine, Ingrid and Ghislaine make up the "dream team" that will live this moment intensely. Attending students also give us their full support. Then came the "moment of truth": we are awarded the label with excellent grades! We are also very proud to be the smallest structure in France labelled at that time.
2009 – Member of SOUFFLE
CREA-Langues ​​becomes a member of the professional association SOUFFLE, to promote exchanges, share experiences and mutualising resources with other French language centres adhering to a common "Quality charter".
Ghislaine is replaced by
Muriel
, who will accompany us as Annemarie's assistant for two seasons.
Jubilee year: in June, we celebrate CREA-Langues' 25th anniversary​​.
2010 - Some news...
Launching of new programs for interpreters, expats and FLE teachers.
That same year,
Céline
,
Lucille
,
Karine
and
Marion
join our teaching staff. Another good year that brings a hint of novelty!
Pascal, our webmaster, gives new life to our website: he is assisted by Marijke and Lieven, our lay-out artists and designers since the beginning.
Concerning the youngster courses, Ingrid passes the reins to
Ophélie
as the director; she will be assisted by
Jean-Baptiste
for a while.
2011 – "Vive l'Australie" ... Not forgetting all our friends around the world
Beginning of our collaboration with a French school in Sydney. Every summer, when lavender is in full bloom, we welcome a group of Australian "francophiles".
That same year, Annemarie and Dhruv assume entirely the management of the Monastery instilling a new energy, and hosting diversified groups throughout the year. They are surrounded by a dedicated and enthusiastic team, including Christophe, our new chef, who brilliantly revisits flavours of the French cuisine.
We launch a new section on our website called "the 4 seasons of Ségriès": every three months, the team shares its "coups de cœur" for films and books as well as Christophe's delicious Provence recipes.
2012 - Renewal of the quality label FLE
Second audit for the renewal of the quality label FLE. Supervised by Annemarie and Catherine and supported by the teachers working at that moment:
Alexis
,
Dorothée
, Martine,
Karen
and Marion, the newest member of the permanent staff. We get the highest marks possible: three stars each, for teachers, training, accommodation, facilities, support and management. It is a great reward for the work done by all the teams! The unconditional encouragement we receive from the participants was indeed very valuable.
2013 - CREA-Langues adults, a new chapter begins
From now on, CREA-Langues only ​​focuses on courses for adults. Youngster programs stop, Jan and Miek who were managing it have decided to deal with other activities. CREA-Langues ​​adults will therefore go on by itself with the same zest and passion.
Marseille-Provence is the European cultural capital and our programs integrate weekends and excursions to this incredible Metropole.
2014 - Thirty years, already !
CREA-Langues celebrates its 30th anniversary in 2014 and it coincides with the 150th anniversary of the Monastery ! In April, we celebrate these two events and at the same occasion, we inaugurate the chapel after two years of renovation.
This year, two new teachers join our team:
Emmanuelle
and
Dorothée
have left respectively Rome and the Dominican republic to establish in our region with their families.
2015 – And we carry on
An excellent year for CREA-Langues: since its creation, we never crossed the 300 inscriptions for adult courses. This year, with great motivation and passion, three hundred people from all over the world come to learn French and discover Provence.
A new teacher joins the teaching staff: from the very beginning,
Melanie
feels like a fish in water. Out of the season, the team is expanding, too: Emmanuelle is now giving a helping hand to prepare courses and activities for the forthcoming season.
2016 - FLE Quality Label renewed
New audit for the renewal of the quality label FLE. As in 2012, we obtain three stars - the maximum - in all fields: teachers, training, classrooms, reception and management. Annemarie, director and Catherine, pedagogical director are of course the leading figures, and they are brilliantly supported by the teachers in charge during the audit: Alexis, Claire, our two Dorothée, Emmanuelle and Marion. Congratulations to all!
We launch a new program "French and Yoga": French classes in the morning and afternoon yoga classes. A great success.
Four teachers join our team:
Claire
,
Corinne
,
Laetitia
and
Charline
.   
2017 - Latest news and retirement of Hélène, responsible for the booking office
Following the special program "French and Yoga" we introduce
"French and cooking"
, the opportunity for gastronomy lovers to combine learning French in the morning and discovering tasty recipes in the afternoon. We are also inaugurating a magnificent building near the pool, called "le pavillon". It includes a fitness area, a new classroom and a beautiful covered terrace. We welcome
Anne-Lise
and
Chrystèle
in our teaching team.
At the end of the year, and after 27 years of close cooperation: retirement of Hélène, head of the booking office.  Her great professionalism, her commitment and kindness were appreciated by all. It's a page that turns, with a little nostalgia. Hélène has many interesting projects for the years to come and we wish her a lot of happiness.
Joan
will take over and we welcome her warmly.
2018 – Joan joins the permanent team
Joan
is now responsible for the bookings. More than fifteen years of experience in Belgian and international companies gave her a solid commercial experience and a good command of following languages : English, German, Dutch and French.
Stéphanie and Olivier
are the new teachers of our 2018 team. In August, we have welcomed
Joao
, Brazilian, the happy winner of an immersion course thanks to the contest "Un poème pour un cours".
At le Monastère, throughout the summer, various artists have been in residence and offer to the students of CREA-Langues enrichening exchanges during the evenings : the pianist Olivier Maurel, the singer René Sette and also the writer René Frégni, who won the book prize "prix des lecteurs Gallimard".
Thanks to its variety of birds and its amenities to guarantee the biodiversity, le Monastère de Ségriès has been awarded the label
"refuge LPO"
(League for the protection of birds). A small "hotel" for insects has also been installed.
2019 – 35 years of CREA-Langues !
During the season, different events to celebrate its 35th anniversary.
On the 12th of April, we had a lovely walking dinner-cum-concert in the chapel. We organized two draws amongst the people enrolled for a course : Nanette Stringer from the US won an exclusive weekend in Aix-en-Provence and Ilse van Looy from Belgium a free week course.
Beginning June, we hosted a festival organized by Paroles publishers around
"L'homme semence"
, written 100 years ago; a true celebration about a story, that tells the life in a nearby Provençal village, a page of French history. A film
"Le semeur"
based on the book, translated in many languages, has been realized in 2017.
Mid-June, we received a team of TV5 Monde. They came shooting for a report on the quality label FLE and the professional group Souffle:
Destination Provence
. A truly nice experience.
And also, the latest novel of René Frégni Dernier arrêt avant l'automne, written after a residence in the Monastère during Autumn 2018, got published this year. The characters are based on people of Moustiers, Riez and surroundings. Strongly recommended !
This summer,
Solène
joined the CREA-Langues team of teachers.