Cuisine for gourmets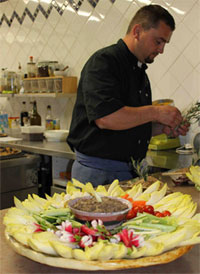 Provençal seasonal cooking
You'll be able to enjoy the best of Provençal seasonal cooking, rich in the tastes and flavours of Provence : papetons d'aubergines, brandade de morue and aioli... to give just a few examples of regional dishes. Our chef, Christophe, interpretes the Mediterranean flavours with a creative touch for the pleasure of your palate.
Vegetables, herbs and fruit are freshly picked from the organic kitchen garden of the monastry.
A local wine accompanies each meal and the desserts merit a special mention.
Every season, you'll find a selection of Christophes recipes in our section "Les quatre saisons de Ségriès - Côté cuisine".