Individual support
A teacher of reference
Throughout your time at CREA-LANGUES, the teaching staff will guide your learning and will help you focus in on the aspects of the language where you need to pay particular attention. You will not have the same teacher every day, in order to get you used to different voices and accents, and for you to benefit from different ways of teaching. The teacher with you on the first day will be your professor of reference. He/she will follow your learning process closely and will do at the end of the course.
Personal interviews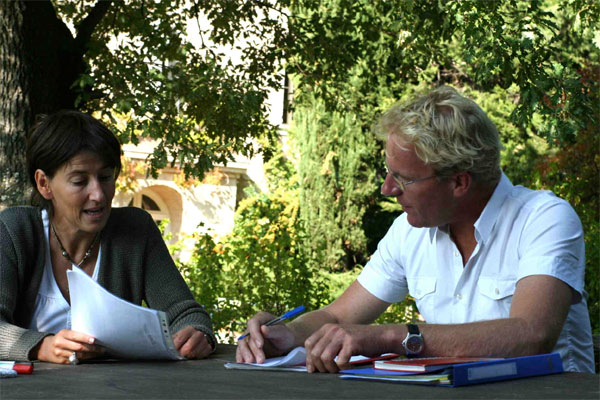 On the first Monday : to assess your level, analyse your profile, but also to know your specific needs and precise personal objectives for the course.
Mid-course : your mentor teacher will guide your efforts and insist on points to work on (the 1st Friday for the 2 week-courses only).
On the last day for all courses : an interview to review the progress you have made during your stay and to suggest ways to continue the study of French after the CREA-LANGUES course. This is based on an assessment according to the CEFR.
A final assessment according to the Common European Framework of Reference (CEFR)
During your course in our school, different exercises, in accordance with the CEFR will be done in order to improve your oral comprehension (listening), written comprehension (read a text), oral production (speak, participate in a conversation, give a speech…) and to a lesser extent written skills.
Towards the end of the course, some activities will be conducted to assess on individual basis your oral comprehension and expression level (as most of the participants mainly come to CREA-LANGUES to improve their skill in these fields). These activities are also based on the CEFR and on the DELF (diplôme d'études en langue française) or DALF (diplôme approfondi de langue française). An assessment of written comprehension and expression will be carried out only on request and if the person takes part in the sessions designed for this purpose.
On this basis, during a personal interview at the end of the course, your reference teacher will give you a certificate assessing your level as per the CEFR, with also a review of your pronunciation and prosody (rhythm, intonation, accent and fluidity).
This certificate corresponds to an assessment within the framework of courses and activities offered by CREA-LANGUES. For a formal assessment under the TCF or DELF / DALF, we advise you to consult the www.ciep.fr website (available in several languages).