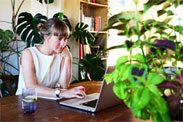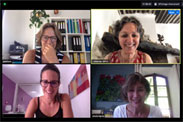 On-line lessons
We offer a variety of on-line modules, following the same format as usual : lessons for small groups of varying abilities (2, 3 or 4 people per group) or private lessons, which focus on quality of oral expression and comprehension as well as pronunciation, using a wide variety of learning materials in addition to individual monitoring. Lessons will be given by Catherine and Emmanuelle, highly qualified, experienced and dedicated teachers.

Five different modules over one week, in small groups per level (2, 3 to 4 per class).





NEW :

« Culture et actualités » - levels B1+ to C2. 
6 sessions of 45 minutes; 2 x 45' per day, Monday, Wednesday and Friday. 


A module allowing you to acquire a better knowledge of France and its culture. The first series will be about contemporary literature. The teacher will present his favourite authors and books. You will be doing some personal research, read extracts of novels and biographies, discuss, …





NEW :

« Expats – Vacances en France » - levels A2 to B1.
6 sessions of 45 minutes (2 x 45' per day, Monday, Wednesday and Friday). 


Objective: to improve your French mainly related to everyday life: telephoning, interacting with an administration or craftsmen, writing an email, conversing with your neighbours, etc...



« Cours renforcé » - levels A2 to B2.
10 sessions of 45 minutes; 2 x 45' per day, Monday to Friday. 

« Interaction orale » - levels B2+ to C2.
10 sessions de 45 minutes; 2 x 45' per day, Monday to Friday.

« Phonétique » - levels A2 to C1.
6 sessions of 45 minutes;2 x 45' per day, Monday, Wednesday and Friday. 



Private tuition, per module: 5 sessions of 45 minutes



For more information, dates, prices and timings (different according to the time zones) : see Online courses.

If you already run or are part of a small group, feel free to contact us so that we can arrange on-line lessons tailored to your needs.  
As part of a partnership with Bien-dire magazine,

CREA-Langues has negotiated for you :

*Excluding postage and "Pack Promo". Before checking out your shopping cart, insert the code "CREA20" in the "voucher" section.
What is Bien-dire? A magazine that will increase your level of French through articles about French-speaking culture (history, society, economics, news, profiles of important French people, literature, etc.), but also through teaching linguistics itself (grammar, intonation, idiomatic expressions, practical conversations...).

The magazines are available in a printed or digital version, with or without CD, downloadable audio, etc. You decide whether you want a single magazine or a subscription.

You could opt for Bien-dire Initial (Beginner to intermediate levels, A1 – B1) or for Bien-dire Intermediate to advanced levels (B1-C2).

Click on the thumbnail to browse an online edition for free :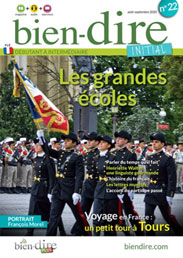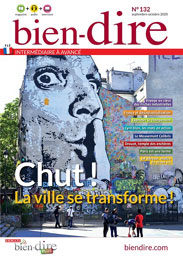 To subscribe : www.biendire.com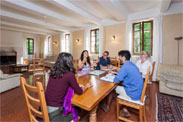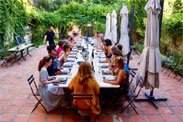 Recommend a friend
Have you already joined us for a course at CREA-Langues and thinking of coming back ? You might know some people who would like to live a similar 'total immersion' experience with us.

If you enroll for a course and if another person – through your recommendation – follows a CREA-Langues immersion course for the first time, we offer following conditions:

For you, having already followed a CREA-Langues course in the past, we offer 100 € on your course per new student who comes through you.

The person who follows a first CREA-Langues course on the recommendation of a returning student, will get a welcome gift at the school. For more information : recommend a friend
CREA-Langues on TV5 Monde : « Destination Provence »
Last summer, Ivan Kabacoff who is presenting DESTINATION FRANCOPHONIES, has been visiting our school, to shoot for a TV programme on the quality label FLE (French as a foreign language).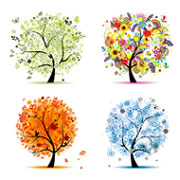 Les quatre saisons de Ségriès
Once every trimester, in our section "LES QUATRE SAISONS DE SÉGRIÈS", we propose "nos coups de coeur", a selection of favorite books or films by one of our teachers, « Le coin des mots », some exercises to enrichen your vocabulary and « Le coin des lettres », a special section for the students who already attended a course at CREA-Langues.

As for now, the automn 2020 edition is online.
Next "rendez-vous" for the autumn on the 21st of December.